Since 1979, Acadian Plumbing has served the New Orleans Metropolitan Area providing Top Quality Plumbing Services.
Our mission is to minimize the inconvenience to the customer by using the most up-to-date equipment combined with years of experience. Our dedicated employees care about providing excellent customer service, and they will oversee every detail because they believe in providing quality work so the job is done correctly the first time.
---
At Acadian Plumbing, we provide a variety of plumbing services for both our RESIDENTIAL & COMMERCIAL customers.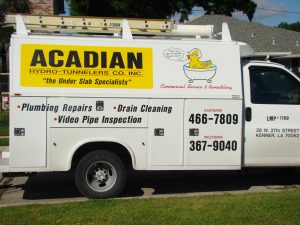 We provide a variety of services ranging from basic plumbing tasks that include fixing a leaking toilet and repairing plumbing fixtures to Hydro Tunneling and Hydro Excavation for under slab repairs. Get your plumbing fixed right the first time with Acadian Plumbing.